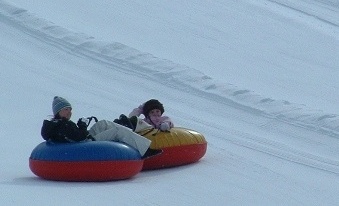 Snow Tubing Jackson Hole provides some downhill entertainment for the family wiyhout the ski and snowboards. Sliding downhill over snow on an inner tube is quite exhilarating. Tubing down a giant banked track, just let gravity do the work. Tubes are equipped with handles, no steering necessary. In Jackson Hole snow tubing is an excellent way to get the family together and have some fun. An all ages activity to participate in during the winter months.
There is a small sledding area and snow castle located on the "Village Commons" in Teton Village.


Located at the base of the Snow King mountain resort you will find King Tubes tubing park. There is a paddle tow to get you up the hill, and tubing lanes to descend upon. This tends to be a very popular activity throughout the season.
**On busy holiday weekends many people find it hard to get enough runs, so it may be better to try earlier in the day than the more popular late afternoon/evening times. The seasons schedule seems a little erratic at this time.**
A ticket office at the base is available to issue tickets. Dress in layers and a waterproof outer layer in order to keep warm and dry. Temperatures tend to be much cooler during December and January as Snow King faces North and gets little sun at its base during the shortest of days.
Grand Targhee sports a tubing hill at the base of their mountain as well. If you ski a day or two at Grand Targhee work it into your day. I suggest taking the family there and combining it with the ski day, as the price is right and the tube lane grooming magnificent.
For more information about snow tubing Jackson Hole or other activities, please contact us.