The number of Jackson Hole galleries can seem a little overwhelming for such a small community. Many different styles  and artists can be found on display here. The bulk of the galleries are located in the core of Jackson, around the town square. Take some time and visit a few of the galleries while in town, many visitors come to Jackson solely for the galleries and the wide variety of art on display here. The Jackson Hole Gallery Association provides a wealth of information on local galleries. There is quite a bit to take in and things are always changing, if you enjoyed a gallery on your last visit to the area, go back and see what is new. Museum quality works are on display at many galleries, don't miss out!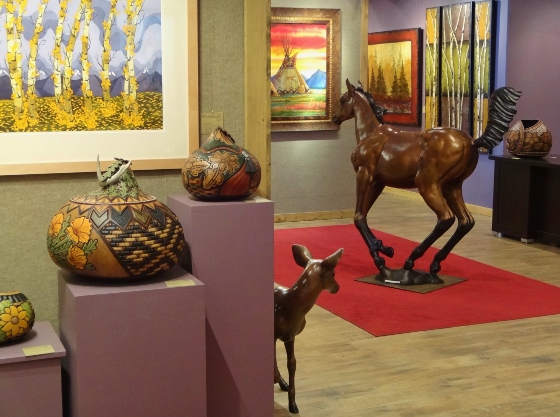 The National Museum of Wildlife Art is located 1.5 miles North of town, and well worth the trip. A magnificent structure blended into the East Gros Ventre butte overlooking the National Elk Refuge. From the late Fall to early Spring you can look out upon Jackson's winter elk herd, numbering in the thousands. With rotating exhibits, workshops throughout the year and its own collections numbering in the thousands even the locals keep coming back time and time again. There is a small restaurant located on site if you'd like to enjoy a meal while visiting the museum. The Sculpture Trail is a new feature at the museum, well worth strolling during your visit.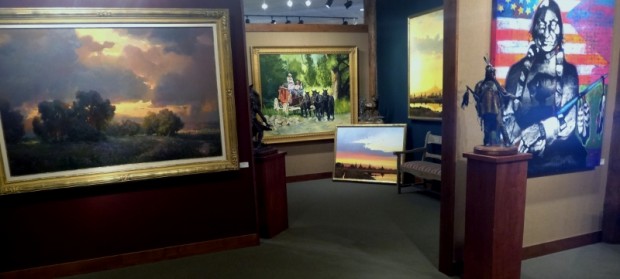 During September Jackson hosts the Fall Arts Festival, which has evolved into a truly Wyoming event. For 10 days Jackson and its galleries host artists from all over the world. There are many different events that occur throughout the duration of the festival. September is additionally, a beautiful time of year to visit the area.
General Information
Gallery walks are featured on some nights throughout the summer, which make for a social and interactive evening. This is a great way to take in some beautiful works art and do a bit of socializing while you're at it.
If you are around for the Fall Arts Festival, don't miss the Palates and Pallettes Gallery Walk and/or Taste of the Tetons. The festival culminates on the closing weekend with a "Quick Draw" competition on the followed by an art sale and auction. There is an additional auction that takes place that afternoon at the Performing Arts Center.