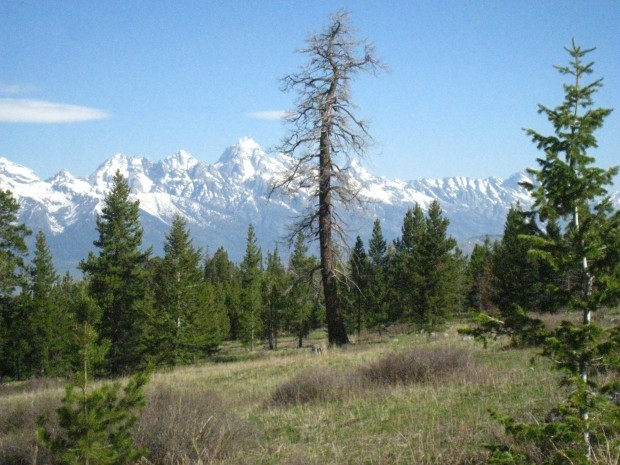 Level: Moderate
Distance: 2.5 miles, 5 miles round trip
Goodwin Lake is a classic Jackson Hole hike, providing some beautiful views of the Tetons. Goodwin Lake is located on the eastern side of the valley and its trail head is accessed via the National Elk Refuge. Getting to the trail head provides a scenic drive through the refuge.
The trail begins with a few climbs and then undulates for most the remaining hike. Its nice to get the elevation gain out of the way early, it warms you up fast and gets the painful part out of the way quickly. At the end you will be at Goodwin wake, which can provide for an exhilarating swim. Jackson Peak is the mountain that dominates most of your Southerly views. You will see a considerable amount of beetle kill in this area, a sad problem plaguing forests in the Rockies.
The hike can be lengthened by adding in the summit of Jackson Peak, which rewards the hiker beautiful views of the valley.
Directions:
The drive will take about 30 minutes from the Jackson Town Square. From the town square follow Broadway to its eastern terminus, which is a few blocks past the hospital. Take the Left out onto the National Elk Refuge, it is 10 miles to the trail head from this point. Follow this road for 3.6 miles then take a Left, do not continue straight over the cattle guard. At 4.7 miles go Right proceeding past the Curtis Canyon Campground (7.3 miles in) until you reach the trailhead parking area. Follow the road. The drive does not require four wheel drive, just a little clearance.
Water, sunscreen and supportive footwear are recommended. You can always make it a picnic hike. Enjoy!
Tags:
goodwin lake
,
hikes
,
hiking
,
jackson hole
,
jackson peak
,
scenic
,
trails
,
trekking
,
views
,
WY