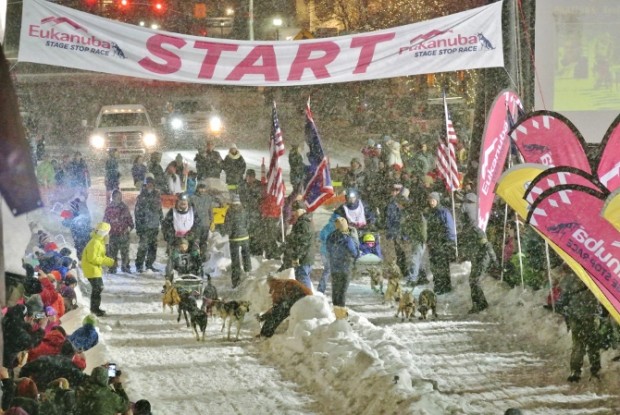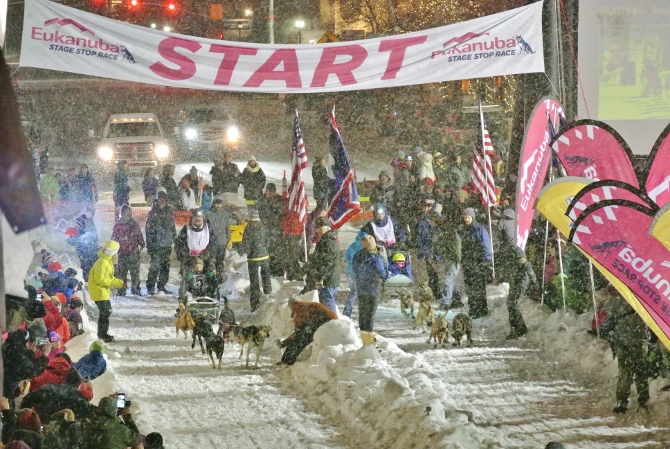 January 26, 2018 at 5:30pm on the town square.
In 1996 Frank Teasley, with the help of public nurse Jayne Ottman, launched the Pedigree Stage Stop Sled Dog Race. Increasing awareness about the need to ensure childhood immunization is one of the race's main goals. The race is the largest sled dog race held in the lower 48 states, hosting a number of teams from outside the U.S.

This year the race course will be taking teams through eight Wyoming and Idaho communities before finishing in Park City, UT. The course will covering roughly 300+ miles. The starting point for the sled dog race is on the town square. As the event has evolved since the first stage was moved to a Friday night start on the town square. The move to the town square has injected the event with new energy. The move to downtown Jackson has helped to draw a larger crowd and created a more festive atmosphere. There will be music, food and hot beverages are available. Fireworks and a torchlight parade will follow the conclusion of the race stage at base of Snow King Mountain.

The course runs North along Broadway, then up Redmond and around to the base of Snow King Mountain. Following the event there is a chance to meet the mushers at a social mixer. Special public shuttles run from the town square to the finish line at the base of Snow King Mountain. Head downtown Friday night and take in this unique experience, The Sled Dog Race tends to be one of the highlights of the Winter season here in Jackson Hole. If there is a hockey game at the Snow King Center, take in the game after the race.
If the race inspires you to want to try your hand at dog sledding, there are vendors that offer a number of different tours in the area. You can even try your hand at mushing. Please contact us early, as these trips tend to book up well in advance.
Tags:
adventure
,
concierge
,
dogsledding
,
dont miss
,
eukanuba
,
events
,
family
,
iditarod
,
ipsssdr
,
jackson hole
,
pedigree
,
race
,
sled dog
,
sled dog race
,
stage stop
,
things to do
,
winter
,
WY