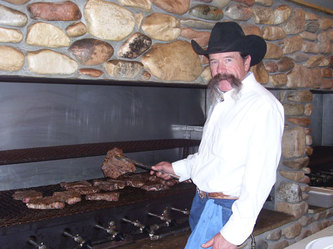 Combine a dinner sleigh ride with elk viewing at the Mill Iron Ranch. Taking a horse drawn sleigh ride to view the elk is awesome. A short sleigh ride which incorporates viewing of a resident elk herd, will be followed by a hearty Wyoming dinner.
After an active day nothing beats a great meal combined with some Western hospitality. There is a resident elk herd in the area of the ranch which can often be viewed during the sleigh ride. Always a unique dining experience.
Dinner sleigh rides are one of the more popular activities during the winter season, so book early. The intimacy of the ranch and the authentic Wyoming experience offered by the crew at the Mill Iron is unsurpassed. I recommend working this experience into your schedule while  visiting the area.
Head South of town and hop into a sleigh at the Mill Iron Ranch, if you would like further information and/or reservations, contact them directly at 888-808-6390 or 307-733-6390.
Tags:
all ages
,
children
,
dining
,
dinner sleigh ride
,
elk refuge sleigh rides
,
elk viewing
,
family friendly
,
food
,
things to do
,
wildlife