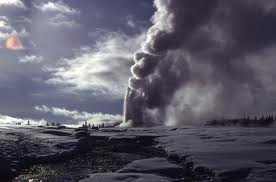 Yellowstone Winter Season is mid-December thru mid-March
During the winter months the roads in the park are closed to automobiles. Snowmobiles and snowcoaches are really the only two ways to explore the park. Check out the snowmobile and snowcoach pages for further information.
Once inside the park you can snowshoe and cross country ski from various lodges. Yellowstone is truly awesome in the winter time. With the varied geothermal feature's steam accented by the crisp winter air. Animals are often found clustered in small herds throughout the park. There are far fewer people in the park during the winter season, making tours much more unique.
Do not miss out on this remarkable adventure. It is an encounter with nature on a level rarely seen or experienced in the lower 48 states.
Be prepared for a long day. Tours usually pick up between 6 a.m. and 7 a.m. Breakfast and lunch are often included. The return time really depends on the weather, most tours generally arrive back in Jackson around 6 p.m.
Multi-day tours are also available through some vendors. These tours will venture into more areas of the park than the day tours. There is a much greater ability to see, know and understand this ecosytem and its inhabitants.
General Information
Be prepared. Dress warmly. Costs for these tours can be $300 or more per person, with peak season rates over $400.  National Park Entrance Fee – $20 per snowmobile.
Drivers in Yellowstone National Park must have a valid Driver's License.
Bring your camera and enjoy.
For more information on wildlife and other activities in Jackson Hole, please contact us.
Tags:
activities
,
all ages
,
concierge
,
discovery
,
geysers
,
jackson hole
,
national park
,
snow coach
,
snowcoach
,
snowcoach tours
,
snowmobile
,
things to do
,
wildlife
,
winter
,
yellowstone