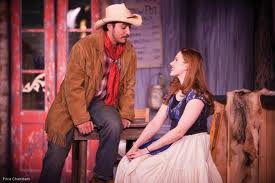 The theater scene in Jackson Hole has been slowly growing and evolving over the years. An active schedule is available. With the recent addition of the local Center for the Arts, the theater scene now has a true home.
Wyoming's only year round professional theater company, Off Square Theatre Company performs a number of shows throughout the year.
Dinner Theater
Dinner Theater is alive and well in Jackson Hole. The Jackson Hole playhouse provides world class entertainment in the heart of downtown Jackson.
Chuckwagon Dinners
Chuckwagon dinners tend to be very entertaining, and could be looked at as the truest form of  Western Dinner Theater.
General Information
Shows are performed throughout the year at Jackson's many venues. Use the above links to check for applicable showtimes. Check the Calendar on the Events page for information on theater, music and other cultural events happening throughout the valley.
For more information regarding the local Jackson Hole theater scene or other activities, please contact us.