The varied and scenic terrain of the Jackson Hole area offers a vast range of hiking opportunities. Immersing oneself in this winter wonderland on a snowshoe excursion can be an enjoyable day off of the slopes. This is one of the easiest ways to get out and experience part of what makes Jackson Hole so special.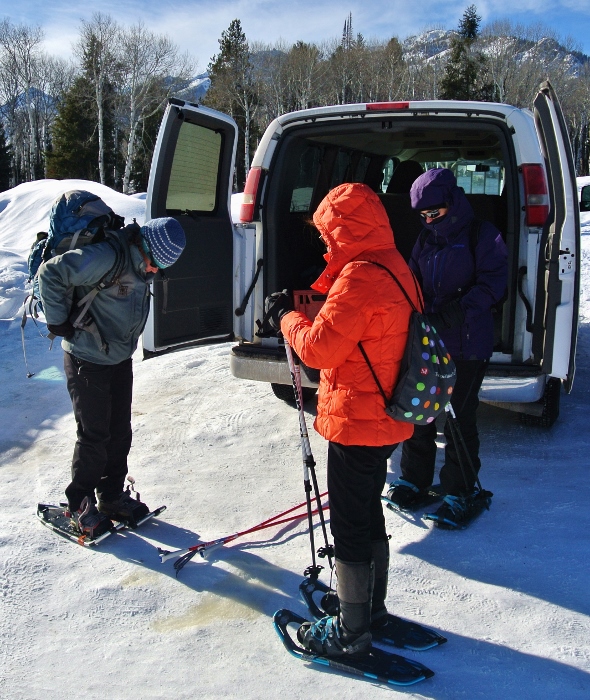 With the onset of Winter, trails become covered with snowfall and snowshoeing awaits. Tracking animals in the snow and seeing first hand how the seasonal changes effect our local ecosystem add to this trip. Wildlife, although scarcer, are still readily viewed.
Guided Tours
Having a local naturalist along for your immersion into our wilderness is always a good idea. There is much to see and learn about this unique valley. A knowledgeable guide will certainly open your eyes to much more than the view. One will learn about the geology that shaped our valley and the many species of wildlife that inhabit it.
Guided tours are offered for half and full days. Half day tours will depart morning and afternoon and generally last about four hours. Full day tours depart in the morning and return in the afternoon.
Self Guided
Want to venture out on your own? There are a number of guide books for the valley available at local shops and bookstores. You could probably consult a local as well. We are usually ripe with information and may be able to steer you away from the crowds for a more intimate experience.

At the summit of the mountain there is a groomed trail offering some amazing views, new in 2013/2014 season.
General Information
Pricing for the various trips range from around $50 a person for adding onto a group hike up to $150 or more per person for private full day tours. On guided tours snacks, water and a pack are typically provided by the vendor, for full day adventures lunch will be included.
Transportation is often provided.
For more information regarding snowshoeing or other activities in Jackson Hole, please contact us.