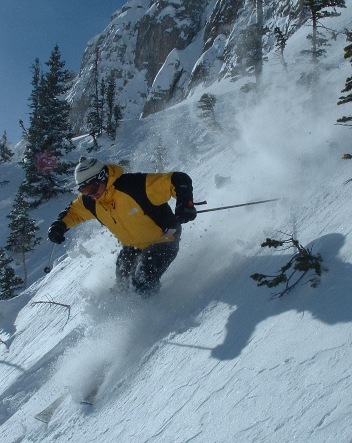 Playing on snow in Jackson Hole area can be the experience of a lifetime. An unparalleled diversity of terrain coupled with an average annual snowfall of 400″ to 500," depending on where you stand in the valley. The lift accessed skiing here can not be beat in the lower 48. Come and experience the majesty of skiing in the Tetons for yourself.
Jackson Hole Mountain Resort
The Big One, is unrivaled in alpine skiing and boarding. A big mountain with aweswome terrain coupled with high quality snow make Jackson Hole Mountain Resort a must on any skier or snowboarder's hit list. This steep skiing legend has softened its hardcore image in recent years by adding a host of family friendly activities and expanding beginner and intermediate terrain. Everyone can now be kept busy on or off the slopes. The terrain remains unrivaled, with the mountain now hosting a number of on mountain eateries and beefed up lift system. Don't forget the 4,000′ vertical rise which provides some of the best fall line skiing around.
Grand Targhee
While located on the opposite side of the Tetons, its still in Wyoming. Grand Targhee boasts 500″ of annual snowfall which provide for nearly unlimited powder days. The terrrain is ideal for all levels, but supports a large amount of intermediate and advanced intermediate terrain. A great place to get your powder legs. Grand Targhee supports a loyal following of true powder hounds. The resort is often ranked as on of  the top  ski areas for snowfall and snow quality. The atmosphere of the quaint mountain village provides for a boutique type of ski experience that one will long remember.
The resort additionally offers the Jackson areas only Snowcat Skiing operation. This added terrain makes the Grand Targhee skiing experience much more dynamic for the destination and day skier to the area.
If you drive over, stop and get a huckleberry shake at the Victor Emporium or visit the Wildlife Brewery to sample some locally crafted beer and, my favorite, BBQ Chicken pizza.
Targhee Express
Targhee Express provides transportation and lift tickets to Grand Targhee on a daily basis. This is the way to go! Leave the driving over Teton Pass to someone else. At the end of the day you'll be tired and can sleep all the way home if desired. In fact, you can sleep all of the way there if you want. It is a beautiful drive and its nice to not have to keep your eyes on the road so you can take in the magnificent scenery. The trip generally takes 1.5 hours each way.
Snow King Resort
The local's hill is truly a gem. Providing great terrain for a modest price, Snow King is the Legend. Located in the town of Jackson and on the bus route. With low skier traffic most days, you'll feel like you have the mountain to yourself. Snow King tends to be a little cooler on most days due to its Northerly aspect, throw on an extra layer. For someone looking for a shorter day on the hill this is the economic choice. Opened in 1936.
New management has recently taken over (Fall of 2014)Snow King Mountain and have heavily invested in new infrastructure including a $3.5 million dollar expansion/upgrade to the existing system. Look for more on the horizon including new lifts and trails.
Located outside of Pinedale, Wyoming about an hour and a half South of Jackson. Providing great terrain and prices, this drive can make for an enjoyable day of exploring this corner of Wyoming. White Pine also experiences lower skier density which makes it great for avoiding crowds. We do not recommend making this trip in storm conditions, it can be a very white knuckle driving experience. The area operates Thursday thru Sunday.
***White Pine Ski Area will be open EVERY day from Thursday December 20, 2012 thru to Sunday January 2013.***
Back Country Touring
Guides are available through the resorts or by hire through private vendors. Hiring a guide is highly advisable due to the ever changing nature of snow and the potential for avalanches. Go with someone familiar with terrain and current snow conditions. Be safe, get out there and explore. "If you don't know, don't go!"
Check the Mountain Weather Forecast and the Avalanche Forecast before venturing into the backcountry.
Helicopter Skiing/Snowboarding
There is a vendor offering this experience in the valley.
General Information
The early season can be a bit of a gamble in Teton County. Jackson Hole Mountain Resort and Snow King Resort have low base elevations, around 6200′-'6300. Sometimes inconsistent early snowfall, can limit terrain until mid to late December. This lower base elevation may also be the nemesis for Spring skiing. As temperatures at the valley floor rise faster with the longer and warmer days of Spring, low snow years this may mean the melting out of some lower mountain slopes.
Grand Targhee does have a base elevation around 8000' which generally lends itself to slighlty deeper snow depths and potentially better early and late season snow conditions.
Resort websites provide ample amounts of information regarding weather, current snow depth and conditions. Resort webcams can also provide a good look at what is currently going on at the mountain.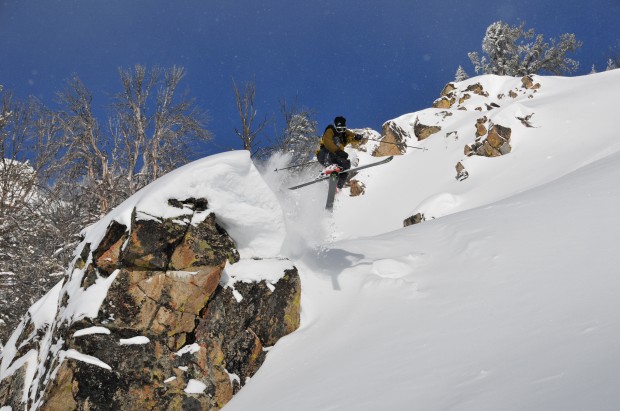 For more information on skiing and snowboarding or other activities in Jackson Hole, please contact us.