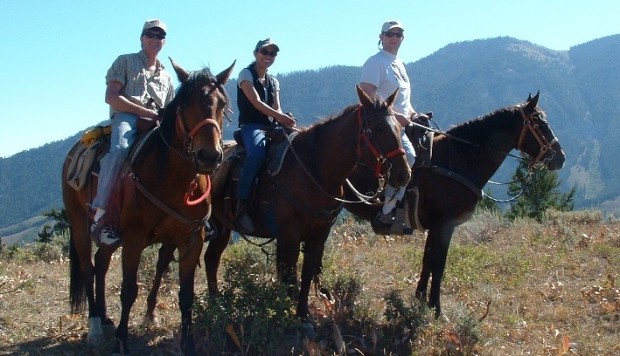 While the days of the Wild West are long gone, Wyoming's rich cultural heritage can still be re-lived at many of the ranches and stables located within our valley. A great way to take in some breathtaking scenery combined with an authentic western riding experience. This unique and exciting way to travel through the wilderness will provide you with a true taste of the old west. Jackson Hole horseback riding outfitters provide a variety of options; from one and two hour rides to full-day and half-day journeys that can come complete with breakfast, lunch, or dinner.
Horseback Tour Types
One and Two Hour Tours:
These trips are quite easy to arrange and depart at all times throughout the day. The locations of various outfitters vary greatly throughout the valley as do the views and the terrain. These tours types are great for the first time rider, but perhaps a little tame for someone that has previous riding experience looking to gallop through the hills and wilderness.
Full Day and Half Day Excursions:
Full and half day rides can truly get you out and away from the crowds, and allow the rider to do some exploring. Experiencing the isolation of the backcountry of Wyoming is part of what being here is all about. Half day tours go either morning or afternoon and full day trips, as they imply, are full day tours staring in the early morning and returning in the late afternoon. These tour types do allow more flexibility, in that some can be catered to the more experienced riders ability level.
Gros Ventre Wilderness:
With trails through Bridger Teton National Forest maintained by only a few companies, this trip offers beautiful wildlife and scenery. Just a short drive from the Wort, the Gros Ventre valley provides close and easy access. Dine trailside on the half-day adve3nure and enjoy your lunch at the Goosewing Ranch on full day excursions.

Green River Outfitters:
With incredible scenery and less traffic on the trails, this is another excellent trip to take in the quiet beauty of the Wyoming, Hoback and Wind River Ranges, located south of Jackson. Visit a turn of the century mining camp and try a little flyfishing while you wait for your lunch to be cooked up by the guide. These trip can be either full or half-day and will take you through the pristine wilderness of the Bridger-Teton National Forest to an old trapper's cabin. Relax in the Native American sauna, and eat lunch or a snack in the camp's teepee. With Green River Outfitters the riding experience is unsurpassed.
Breakfast, Lunch and Dinner Trailrides:
These rides can be either their own packages or in many cases the meal can be added on to an existing trail ride. Meals are generally quite hearty so bring an appetite or be sure to work one up on the trail.
There are other options available such as overnight and multi-day expeditions. Many companies are able to customize a trip to fit the individual needs of your party.
General Information Regarding Tours:
Horseback tours in the Jackson Hole area lasts from the middle of May thru October. In the Spring, the trails are often too wet for riding. In the Fall outfitters often switch the focus of their business onto the hunting season.
Full-day guided tours with at least one meal included with snacks and beverages can cost anywhere from $150 to $250 per adult.
Half-day tours generally include a snack and beverage, pricing will vary from $65 to $170 per person.
Most one and two hour tours do not come with food or beverage service, some vendors do however offer meal options with an additional fee to the one and two hour rides.
Don't forget to bring your camera!
Wear pants and closed toe shoes.
Prices vary according to length of trip, location, transportation and meal options. Unguided tours cost much less, and are offered by a few companies in the area. We would only recommend these tours to people with previous riding experience.
Companies that offer "go on your own" tours will typically provide customers with trail maps for self-guided tours.
For more information regarding Jackson Hole horseback riding opportunities and other activities, please contact us.