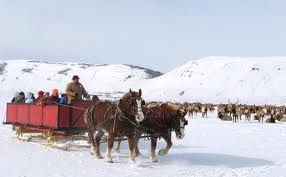 Sleigh rides are available throughout the day upon the National Elk Refuge. Starting in December and ending in March. Perhaps the closest one may ever get to an elk. Take a horse drawn sleigh, (wagon when the snow is marginal) onto the refuge and mingle with some of the 8,000 elk that winter in this area bordering the town of Jackson. Trips depart with a shuttle ride from the Visitor's Center on the North end of town. The S.T.A.R.T. bus will get you to the Visitor's Center.
The refuge was created in 1912 as a result of public interest in the survival of the Jackson elk herd. More than 7,500 elk make the winter range of the National Elk Refuge their home from October until April. The 25,000-acre refuge includes nearly 1600 acres of open water and marsh lands, 47 different mammals, and nearly 175 species of birds.

General Information
Pricing for the various sleigh rides range from around $18 for adults on the Elk Refuge to $70 or more per person for dinner sleigh rides.
**Special Tour**
National Elk Refuge winter naturalists lead a free wildlife excursion at 1:30 PM each Tuesday, Thursday, Saturday, and Sunday during the winter season. The excursions depart from the visitor center and stop at various refuge locations where animals such as elk, bighorn sheep, and waterfowl can frequently be seen. A spotting scope and binoculars are provided on the tours. Reservations are required for the 2 – 2.5 hour tour and can be made by calling 307.734.9378 or sign up in person at the visitor center. The wildlife excursion is free of charge.
For more information on elk viewing and/or dinner sleigh rides or other activities in Jackson Hole, please contact us.