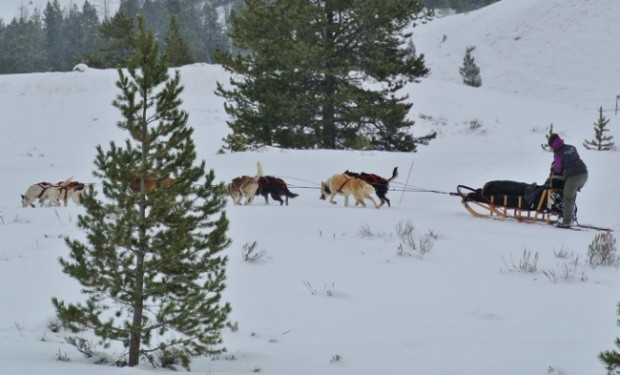 Discovering Jackson Hole under paw power is a unique and exciting way to explore the area! Explore our winter wonderland while gliding over the snow. This is an awesome way to enjoy a day in Jackson. You may even have the opportunity to mush the dogs yourself. Taking control of the sled and guiding your team through the pristine wilderness areas that surround our valley is quite an exhilarating experience. Depending on snow conditions, the season can start as early as late November and often times runs can into mid April.
These trips tend to book up well in advance, make reservations as soon as you can.
Dress as if you were going skiing or spending the day outdoors. Layers are suggested. The vendors provide blankets etc. to make riders comfortable.
Granite Hot Springs/Granite Creek Area Tours
South of Jackson through the Hoback Canyon lies the Granite Creek area. About 13 miles in, one will find Granite Hot Springs. This large spring fed pool provides the rest and relaxation part of this adventure. Full days tours will stop at the hot spring for lunch and a soak, bring a swimsuit, towel and bag for the wet items. The half day tours in this area venture to a waterfall about half way in. The drive there is gorgeous.
Jackson Hole Iditarod Sled Dog Tours
Togwotee Pass Tours
This area is North of Jackson by about 45 miles. Stunning Teton views can be had en route and during the tour, as you will travel through part of Grand Teton National Park. Upon arrival you will be in the high mountains, on clear days the views back onto the Teton range are truly amazing. Togwotee Pass is a beautiful area to explore. We suggest touring to Brooks Lake Lodge to experience one of the finest backcountry lodges in the area.
Continental Divide Dog Sled Adventures
General Information
Pricing for the various trips range from around $150 a person up to $250 a person for full day tours. Verify the cancellation policy at the time of booking. Transportation is often provided.
Full Day Tours
Full day trips pick up in town at 8:00 a.m. and return at approximately 4:30 p.m. Full day trips will offer the widest variety of tours available. They include a hearty lunch, and hot soups and beverages.
Half Day Tours
Half day trips pick up in town at 8:00 a.m. and return at approximately 1:30 p.m. Half day trips include hot beverages and soups. Weather permitting, afternoon half day trips pick up in town at 11:45 a.m. and return at approximately 4:30 p.m.
For more information on dogsledding or other activities in Jackson Hole, please contact us.