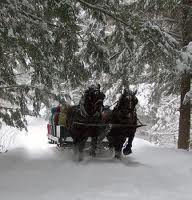 After an active day nothing beats a great meal. Why not hop in a horse drawn sleigh and take a short ride followed by hearty Wyoming dinner. Always a unique dining experience.
General sleigh rides are available, and dinner sleigh rides are one of the more popular activities during the winter season, so book early.
Snake River Vintage Sleigh Rides

Spring Creek Ranch Dinner Sleigh
Spring Creek Ranch offers a horse drawn sleigh ride along the top East Gros Ventre Butte, over 1000′ above the valley floor. Wrapped in lap blankets one can enjoy the quiet surroundings. After a 45 minute ride, you are dropped off at our Granary Restaurant where a wonderful dinner experience awaits you. Truly a romantic evening. On clear nights one can take in awe inspiring views of the Tetons and the surrounding valley.
Mill Iron Ranch
A short drive south of the town of jackson will bring you to the Mill Iron Ranch. This dinner sleigh ride should be of particular interest to those looking to possibly view some wildlife. There is a small herd of elk that winter in close proximity to the ranch and viewing of this herd is incorporated into the ride. Following the ride you will be treated to a fabulous western dinner.
Elk Refuge Sleigh Rides
The refuge was created in 1912 as a result of public interest in the survival of the Jackson elk herd. More than 7,500 elk make the winter range of the National Elk Refuge their home from October until May. The 25,000-acre refuge includes nearly 1600 acres of open water and marsh lands, 47 different mammals, and nearly 175 species of birds.
General Information
Pricing for the various sleigh rides range from around $18 for adults on the Elk Refuge to $70 or more per person for dinner sleigh rides.
For more information on sleigh rides or other activities in Jackson Hole, please contact us.