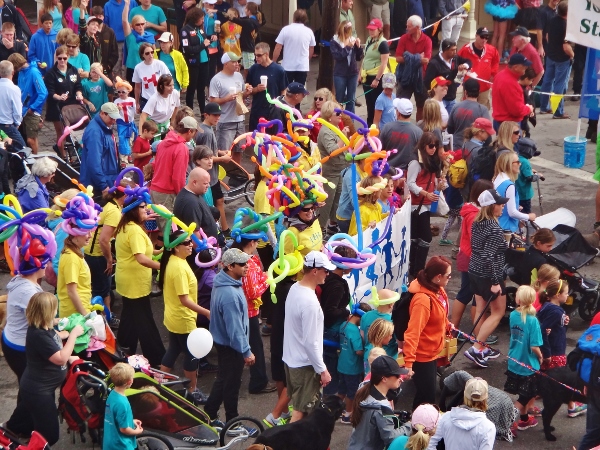 Jackson Hole and the surrounding area offer unlimited possibilities. No matter what the time of year is you can always get out and experience something wonderful.
Late Spring and Fall do present some challenges since many vendors are closed and access to the National Parks is limited. You can find something to occupy your time. Local galleries provide a wide array of art. Wildlife is always out there, so sign up for a tour or ask some locals where to look and go on your own.
The Summer months in Jackson provide the widest array of activities, and the largest crowds. Planning items in advance can help make things a lot smoother. Most activities are available at multiple times per day.
Hot air ballooning only goes at the crack of dawn, it is well worth getting out of bed for this one! If aerial adventure is your game, then paragliding might be just what the doctor ordered.
Whitewater and Scenic rafting are available in multiple locations and go at all hours of the day.
Horseback riding is a popular activity here in the Jackson Hole area. Tours depart at all times of day. Most folks opt for a two or four hour ride. Breakfast, lunch, dinner and multi-day trips as well.
During the later Summer months and into the Fall, Jackson becomes a destination for fly fishing. This is a great way to get out on the water and stalk the native cutthroat trout.
If you are looking to get out on a bicycle, there is an extensive trail system that runs throughout the valley. A number of single track trails and dirt roads are available for mountain biking. We are blessed with a paved bicycle trail encompasses nearly the entire valley, it will even get you up into Grand Teton National Park.
If you have children, the Jackson Hole Mountain Resort in Teton Village, has a number of activities. This includes a ropes course, the aerial tram, lift served mountain biking, a climbing wall, bungee trampoline, 18-hole disc golf course. You can additionally take horseback tours, do a chuckwagon dinner, or take the gondola up to mid-mountain and opt for happy hour or dinner at Couloir restaurant. Snow King Mountain has a Scenic Chairlift, Bungee Trampoline, Alpine Slide and Alpine Coaster, as well as a TreeTop Adventure Course to keep you busy.
Wildlife Tours will get you familiarized with this vast ecosystem. An expert guide will lead on an educational tour, you can take it all in since your not behind the wheel. Guides are available for Yellowstone and Grand Teton National Parks as well as other areas. These tours are highly suggested for photographer among us.
There is quite a bit of  music offered up throughout the season, much of it free & outdoor, take in a show while you are in town!
Tags:
activities
,
adventure
,
alpine coaster
,
alpine slide
,
children
,
events
,
fall
,
fun
,
happenings
,
jackson holke
,
kids
,
spring
,
suggestions
,
summer
,
things to do
,
tips
,
winter